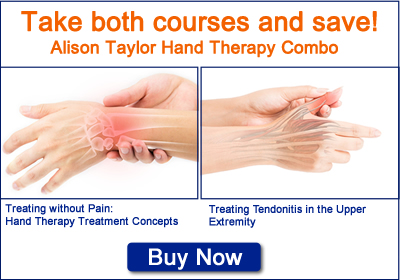 Includes Taping, IASTM, Joint Alignment, Cupping and more 
7.5 contact hour hybrid CE course.
Complete these learning activities before participating in a live 2-hour Virtual Zoom Classroom:
5 1/2 hours of recorded lectures and demonstrations of treatment techniques
case study assignments
Choose a date for your Virtual Zoom Classroom to problem solve cases, scenarios, and navigate treating your tendonitis patients without pain.
Treating without Pain: Hand Therapy Treatment Concepts is a pre-requisite for this course. If you have taken our live course in the past, please contact us so we can enable this course for you. Please read course requirements carefully BEFORE registering for this course. All courses are final sale.
TECHNOLOGY REQUIREMENTS - Read Before Registering
For this hybrid online course, you will require:
computer/tablet with speakers and good internet access to view course videos.
computer/tablet with webcam, microphone and speakers or Smartphone will be needed to participate in Interactive Virtual Classroom via Zoom.
email access for communication about the course.
COURSE REQUIREMENTS - Read Before Registering
As a requirement of this course, you will need to:
view all recorded lectures and demonstrations prior to attending required Virtual Classroom powered by Zoom.
complete Case Study Assignments for four patient scenarios provided by instructor prior to attending Virtual Classroom via Zoom.
prepare a case study of one of your challenging patients that you would like to discuss during Virtual Classroom via Zoom
participate in a scheduled 2-hour Zoom meeting with the instructor discussing case studies, taping applications, treatment techniques and Question and Answer session.
complete post-test with a passing score of 80%.
This hybrid online combined-concepts CE course will provide innovative techniques that can be used immediately with numerous "take home" tips and pearls. Includes many demonstrations of treatment techniques and video evidence for "Treating Tendonitis in the Upper Extremity".
Learn new techniques that can be used to treat pain conditions in the upper extremity. Includes extensive patient demonstrations to present the concepts of muscle imbalance and alignment. Focus on the agonist/antagonist muscle relationship, joint kinematics with movement as well as compensation movement patterns. Learn to recognize which muscles are "under functioning "and which are "over functioning". Explore techniques on how to improve joint ROM, eliminate pain and sensitivity, and restore balance to the upper extremity. Joint mobilization and taping applications will clearly demonstrate muscle imbalance. Current research will be included to support these concepts.
Prerequisite: Prior to attending this course, participants must complete the hybrid online CE course on "Treating without Pain: Hand Therapy Treatment Concepts".
This course content is not intended for use by any participants outside the scope of their license or regulation.
Occupational Therapists
Occupational Therapy Assistants
Physical Therapists
Physical Therapist Assistants
Certified Hand Therapists
Certified Athletic Trainers
Course Objectives:
After completion of this course, therapist will be able to:
Identify 3 Movement With Motion (MWM) joint glides for a patient with shoulder tendonitis pain.
List 2 Agonist and Antagonist muscle relationships in a patient with Elbow Tendonitis
Independently create a treatment plan that includes 2 manual joint corrections for a patient with thumb pain
Independently create a treatment plan including 2 taping techniques for a patient with ECU Tendonitis
Explain how joint alignment and muscle imbalance influence a patient with finger pain
Independently develop a treatment plan that incorporates taping, cupping, and IASTM strokes for a patient with wrist tendonitis
7.5 hours, includes 5.5 hours of online video lectures, patient demonstrations, and assignments, plus 2-hour Interactive Virtual Classroom (Zoom) hosted by instructor. (5.5 hours asynchronous learning; 2 hours synchronous learning)
This on-demand online course is accepted by many professional credentialing organizations and state professional regulatory boards. Rules and regulations change frequently without notification, and apply differently to live and online courses. Please check with your state board to confirm accuracy of this list and acceptance of contact hours. Certificate of Attendance will be issued to all participants upon completion of the course and may be used for CEU verification of credits. CE credits vary by state. Please check with your state board/certifying agency to confirm conversion of contact hours to CE.
Rehab Education, LLC is recognized as:
AOTA approved provider of OT and OTA continuing education (#6177)
approved provider of PT and PTA continuing education by the NY State Education Department Board of Physical Therapy.
approved provider of PT and PTA continuing education by IDFPR/ Illinois Board of Physical Therapy (#216000227).
The Physical Therapy Board of California recognizes Rehab Education, LLC as an approval agency to approve providers offering continuing competency courses for CA licensed PTs and PTAs.
Texas Board of Physical Therapy Examiners: This course has been approved by the Texas Board of Physical Therapy Examiners as meeting continuing education requirements for PTs and PTAs for 7.5 CEU. Approval #70409. (Course must be taken between 07-21-2019 and 07-20-2021)
Alison Taylor, OTR/L, CHT, CKTI
graduated as an Occupational Therapist in 1990, from Sydney University, Australia. She has worked in and out of the United States for over 29 years and obtained her CHT in 2001. Since that time Alison has presented at 6 ASHT Conferences, multiple state ASHT and OT conferences, and special interest group meetings in GA, IL, NH, SC, TX and LA.
She became a KinesioTaping Instructor in 2011 and actively lectures throughout the USA on UE and LE taping.  Alison presented at the International KinesioTaping symposium in Hawaii in 2017 on "Tennis Elbow", and was published in the Kinesio "Advanced Healing Magazine"
Alison is a guest lecturer for the OT programs at Texas Women's University (Denton) and LSU (Shreveport). She lectures nationally on Hand Therapy and is developing protocols for tennis elbow and radial nerve impairment. Her specialties include hands, UE sports orthopedics and tendonitis.  Her background also includes neurology, geriatrics, spinal cord and acute care.